There are a lot mortgage lenders and brokers there. Why you should use us? Here are some simple Reasons.
Low Rate: We offer low rate. We try our best to provide the best rate in market. For an average loan amount (say $300,000), a 0.25% lower rate can save you more than $15,000k in life of the loan. (assume rate from 4.0% reduced to 3.75%, 30 year term). Your money is the result of your hard work, save it.
Free Consulting: We do more. Other then we simple review your loan application, say approve or deny, we do answer your real estate and credit related questions. We can help you arrange your personal finance to make a denied situation to approved. Or make suggestions to help you improve your credit. All make your home finance more healthy, affordable.
Close Quicker: we can close a loan in 15 – 20 days. (after we received all required document from the borrower.) As a directly lender, we have more control during loan processing.
More loan Options: Do not think all lenders are the same. We work with many investors including big banks. We can find the most appropriate loan product fit your specific need.
How to Trust? Is this company real? or using bad teaser rate and raise the rate before closing? What I should do to verify the company is a good business?
When deal with a life time biggest purchase decision, It is important your loan is in good hands. Here is some work you can do before you make decision.
Verify the company and loan originator do have credential. Check http://www.nmlsconsumeraccess.org/ make sure the company and the loan originator are licensed or registered. (It is true to be a loan originator in a small company is more difficulty than in a bank)
Do not just listen the sale person taking how good he/she is, Check independent third party rating. Read detail about how other people say about us and other companies. Here are some web site you can visit.

Better Business Bureau website is bbb.org.  A non profit organization who focus on advancing marketplace trust.
Yelp, the web site is yelp.com. This web site not only give rating to Restaurants, also for many service companies.
Zillow Review: the website is Zillow.com. Zillow did have real estate service providers review.
Google and other online reviewing. Just Google the company name. See what Google user say about the company. Actually I just try to Google "AAXY Mortgage", the web site shows Yelp, Google, facebook, mapquest.
Find transactions who using AAXY as a lender in county record. As mortgage is a lien on the property, some counties do able to search such record on Internet. Here is an example to find such information in Williamson county public record.

Visit this web site. https://eagle.wilco.org/williamsonweb/user/disclaimer
You may Google Williamson county public record to find this web site.
Accept the term.
Click the first box: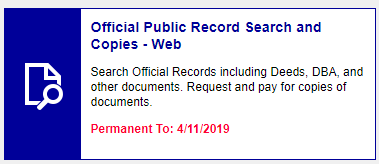 The red word may be change as time change.
Search "AAXY"
You can find all Deed of Trust (Mortgage document recorded in county public record system) with lender is AAXY LLC (It is the official name of our company. We use dba as AAXY Mortgage and Austin First Mortgage). You can find how many loans have closed with AAXY.
A few tips:
Keep everything in writing. As current regulation, if the company gives you an Loan Estimate and rate locked, the Interest Rate and fees the lender related can not increase in most most cases. (only time rate and fees can change as loan program change, borrower credit score change, loan term change and very few other reasons).
Keep a good communication with the loan originator. Ask all question you have.
Do not change your finance (change job, buy big items with credit) before your home loan close.